Lincoln Navigator Bedford Indiana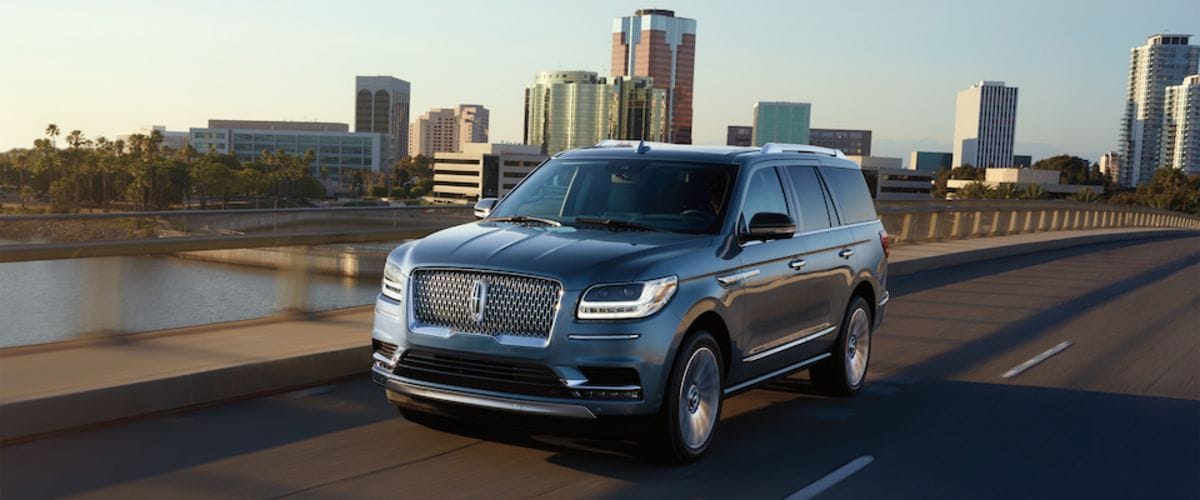 Check Out the Lincoln Navigator in Bedford IN
The Lincoln Navigator is more than just an SUV.  The interior is your sanctuary with each detail crafted for your enjoyment.  The lines are crisp and uncluttered, and the materials are luxurious and soft.  Underneath the hood of the Navigator is a powerful engine that will get you from Bedford to Bloomington IN effortlessly and quietly.  Once you have picked out a trim level, we will offer you Lincoln Navigator lease deals as well as more Navigator financing to ensure you drive off the lot with confidence, ready for your next adventure.
Trim Levels
There are seven available trim levels for you to choose from each one building on the previous model from price to features. The trim levels are listed below:
Lincoln Navigator Standard
Lincoln Navigator Select
Lincoln Navigator Select L
Lincoln Navigator Reserve
Lincoln Navigator Reserve L
Lincoln Navigator Black Label
Lincoln Navigator Black Label L
Performance
You'll love the way the Lincoln Navigator drives through Martinsville IN.  The Lincoln Navigator is equipped with a ten-speed transmission to help with balance and efficiency as well as overall performance.  With ten independent shift points, the engine can operate in its sweet spot.  Under the hood of the Navigator is a Twin-Turbocharged 3.5L engine that is able to produce 450 horsepower and 510 pound to feet of torque.  When matched with six Lincoln Drive Modes, from Conserve to Excite, the Lincoln Navigator conforms to your mood and the road.
Modern Technology
Part of driving is to have peace of mind, and in the Lincoln Navigator that is exactly what you'll get.  The Lincoln Navigator features driver assistance technologies that help you park, maneuver and drive safer.  Parallel and perpendicular parking has never been more effortless thanks to the available enhanced active park assist.  Ultrasonic sensors can locate a parking spot  and control the shift buttons, accelerator, brake and steer the Navigator into its spot.
The available Lane-Keeping System uses a camera behind the windshield's rearview mirror to monitor road lane markings and prevent unintentional driving toward your wrong lane.  You'll gain a new perspective of your Lincoln Navigator thanks to the 360-degree camera that gives you a virtual bird's eye view.  Plus, a 180-degree split-view camera located in the vehicle's front grille makes visibility in cross-traffic situations, and intersections better.
Stunning Design
The Lincoln Navigator welcomes you as you walk closer with its approach detection.  The Lincoln Navigator will lead the way when your key fob is in range.  When you are detected autofold mirrors project the signature Lincoln logo welcome mat on the ground below the doors.  The door handle areas also begin to glow while the front and rear running lamps illuminate as if to say hello.
Lincoln Black Label
The Lincoln Black Label elevates your Lincoln experience that much more.  The Lincoln Navigator Black label features a collection of more interior design themes, high-end materials, and more membership privileges.  You'll experience ultimate luxury, comfort, service, and style.  The Lincoln Black Label experience offers many exclusive benefits like premium maintenance service with pickup and delivery, complimentary anytime car washes, detailing, and an exclusive Culinary Collection, which is a selected list of restaurants providing exclusive dining just for you.
The Lincoln Navigator is as stunning as it is powerful and with an array of trim levels available you'll find your perfect fit.  Bedford Lincoln is located right off Old State highway 37.  If you have questions about the Lincoln Navigator's price or leasing options, please visit us or give us a call and our experienced staff with work with you! We hope you choose Bedford Lincoln as your new Lincoln dealership, just around the corner from Greene County and Salem In.